Dear ,
This year's NSA conference was awesome from beginning to end! The keynote speakers were all exciting and entertaining. The Opening Sessions featured Vince Poscente, CSP, CPAE, and The Passing Zone. Sunday morning was the CSP ceremony, entertainment from The O'Shea Report, the R.E.A.L. (Real Education And Learning) Rally, and general session presentations by:
Joseph Michelli, PhD - It's Not a Keynote: It's an Experience--Service Serves Us!
Shawna Schuh, CSP - Xselling in a Tough Market: Keeping the focus when fear is on the loose
Cavett Scholarship Recipient, Josh Sundquist - Red Line Living
David Nour - What's Next with Social Networking?
Valorie Burton - Live with Purpose, Communicate with Confidence
Keith Ferrazzi - Who's Got Your Back--Building Meaningful Connections
Peter Sheahan, CSP - Next Generation Speakers
Scott Halford, CSP - Impacting Audiences--Creating Behavioral Changes
DJ Eagle Bear Vanas - Real Medicine: Staying Healthy in Toxic Times
Lunch sessions were presented by Taylor Mali, Kim Snider, Joe Malarkey, CSP, CPAE, and Nando Parrado.
.
The breakout sessions and technical training was fabulous. I was blown away by all I learned about Twitter, Skype, Facebook, You Tube, Linked In, Trip It, Plaxo, Ping.fm, Webinars, etc. I was, of course, already involved in many of these and thought I knew a great deal until I attended the sessions…and then I learned so much more. There are so many ways to use all this social networking that are beyond what I had even imagined.
The personal networking was powerful too! It was great to see old friends like Carl & Elaine Hammerslag and Niki McCuistion whom I hadn't seen in years. It was also a wonderful treat to see so many of the great South African speakers there. After living in South Africa, they always hold a special place in my heart.
I was sad to hear so many speakers talk about the lack of work and the bad economy. I think Joseph Michelli summed it up best when he said, "Never has there been a better time for speakers. People need us to give them hope." Then, too, if speaking is down for you, this is a time to regroup, reinvent, and market even more than ever before. It's a time to learn that new technology. I worry that if we continue to talk about how bad everything is, we will build the collective consciousness and make it worse.
Tuesday the convention came to a close with notes from Linda Larsen, CSP, Steve Spangler, CSP and, of course, Dale Irvin, CSP, CPAE. Dale always brings the convention into perspective in the most humorous fashion. Bravo to the Convention Committee and NSA staff. It was the best convention I've attended in years.
I hope I get to see all of you at next year's convention.
Kind regards,


6 Steps to Better Presentation Graphics
by Mike Parkinson
You have 13 seconds or less to make a positive first impression on your audience. So how can your presentation impress your audience and convey your message with so little time? By using a tool which communicates 60,000 times faster than text—graphics—and using the following six design secrets.
1. Use graphics to highlight key concepts such as features, benefits, and discriminators that may otherwise be lost in a sea of words. Graphics should highlight your most audience-focused points.



2. Make all graphics audience focused. Which slide would be more communicative to the United States Army (A or B)?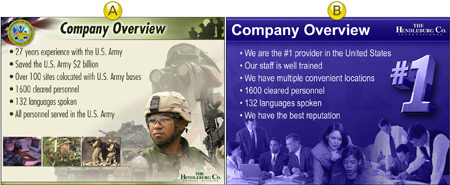 Slide A focuses on the target audience and uses terms and imagery to which they can understand and relate. Slide B is focused on the presenter and what they want to say about themselves without regard to their audience. The presenter of slide B failed to learn more about the target audience (and the slide reflects that fact).
3. Keep it clean and simple. Unnecessary visual clutter and too much data interfere with audience understanding. Focus on your audience's most important needs and make sure your graphic addresses those needs clearly.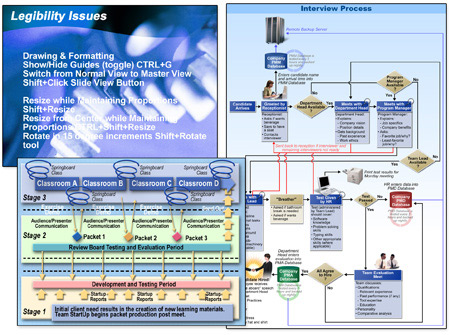 Avoid using many different images, lines, shapes, patterns, textures, and colors. If you have a complex solution, start with an overview graphic and use it throughout your presentation to tell a story. Turn this graphic into an icon and highlight each piece as you uncover greater detail.
4. Use a template. Define graphic and text styles, create a color palette, and include sample imagery on a slide in a template file. Templates help guarantee consistency throughout your presentation and consistenecy breeds trust in your audience.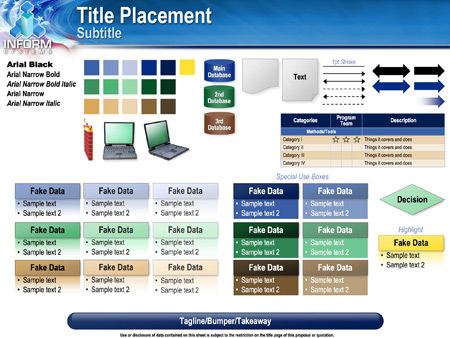 5. Label elements directly to avoid confusion. When depicting steps in a process, label them as such. The clearer your labels the more effective your explanation. Avoid legends. Legends add visual clutter and force the audience to waste time deciphering your message.
6. Avoid clip art. Canned, unprofessional art tells the audience that they were not important enough to take the time to develop a professional presentation. Support your claim that you are the expert in your field with professionally rendered, communicative, compelling graphics.

If you are working with a designer, verify that they are experienced in the required software. A skilled designer understands how to engage an audience, communicate a concept, and generate a positive emotional state through appealing aesthetics.
Mike is an internationally recognized visual communication expert and multi-published author. He is a partner at 24 Hour Company (http://www.24hrco.com), a premier proposal and presentation graphics firm. In addition, he established Billion Dollar Graphics (http://www.BillionDollarGraphics.com) and BizGraphics On Demand (http://www.BizGraphicsOnDemand.com) to provide helpful presentation tools and share his graphic knowledge. You can contact Mike at mike@24hrco.com or call 703-533-7209 for more information.

Technical Tips - Write Articles
By Gregory Kompes
When you think of advertising, print ads in magazines and newspapers, commercials on TV and radio, and billboards probably come to mind. When you think Internet advertising, banner ads, pop-ups and Goggle AdWords or other pay-per-click options might come to mind. There's a better, free way to advertise. Let's start with a few facts.
Live Journal polled Internet users asking why they purchase books. Here are the top results: a familiarity with the author's work (99%); read about the book on a Website and blog by someone other than the author (80%); read about the book on the author's Website and blog (65%); read the first chapter online (63%), and, read an electronic (or print) book review (56%). Down at the bottom of the list were postcards and mailings, gifts, gimmicks and contests.
The poll results indicate that Internet technology sells books. People buy books because they believe the authors are credible sources of information and because they've read about the author online. This month we're going to look at a simple way you can further establish your expert status, garner more exposure on other people's Websites and blogs, drive visitors to your Website, and sell more books. Articles published in Article Directories are a great way to promote your platform without spending a dime.
There are thousands of newsletters and blogs that need new, fresh content to publish. Article Directories are clearing houses where you can post articles about your niche topic. Newsletter editors and bloggers search these by topic and publish what interests them.
To take advantage of this advertising channel, first write a short article (400-1000 words) that includes a "resource box." Resource boxes are those brief biography paragraphs at the end of online articles about the author. Make sure your resource box includes a URL (Web address) that links to your Website. The combination of a well-written article and resource box builds your credibility and drives traffic to your Website.
Here are a few content suggestions. Choose content from your book that stands well on its own and turn that into an article. Outline one of your book chapters and create a Top 10 list with brief explanations of your ten points. Don't forget that resource box.
Second, make your articles available to editors and bloggers for publication. If you have an established relationship, you can submit your work directly to newsletter editors and bloggers. For more extensive reach, submit your work to any of the hundreds of Article Directories. Glenda Schoonmaker maintains a comprehensive list of directories at BellaOnline (http://www.bellaonline.com/articles/art12838.asp).
While you'll maintain your copyright, you won't be paid in cash for articles published through directories. But when newsletter editors and bloggers publish your content the benefit you receive is click-link advertising that can help reinforce your credibility and expert status with your book-buying audience.

Bestselling author and online self-promotion expert Gregory A. Kompes is the Writerpreneur. Gregory explains how to combine online marketing tools to create a recognizable brand, build and retain audience, increase credibility, and improve your income earning potential. The Writerpreneur makes online promotion topics like Website building, email, eCommerce, teleconferencing, podcasting, blogging, eZines, autoresponders, ePublishing, product lines, cross promotion, and affiliations easy to understand and approachable for technophobes and geeks alike.
Words of Wisdom is a question and answer format where successful speakers share their experience and bits of wisdom. Each issue will feature a different speaker that has answered our 10 questions.
Wayne Turmel shares words of wisdom.

1. Did you choose the speaking profession or did it choose you?
I think it chose me. I started speaking in public when I was six years old, did standup for 15 years before I joined the real world, and now here I am 15 years after that. I'm like Michael Corleone- just when I think I'm out they pull me back in!
2. When and how did you 'know' you were a speaker?
I was really young- maybe 12 years old and I just realized that every time someone needed a speaker for a group or a team, I was the go-to person. School, church, social groups, people would just defer to me and assign me the speaking jobs. Worst part was, I liked it. People assumed I was so much smarter than I am just because I could communicate effectively. That illusion of smarts has kept me going so far. I'm probably busted now and will have to go back and get a real job. Me and my big mouth.
3. What are the biggest surprises you've encountered? (as a speaker)
I think the biggest surprise I've encountered is that there is a business- a real business- involving speaking. The other big surprise is that as talented as I think I am in my dreams I'm really just beginning to understand that business and I'm making every rookie mistake there is.
The biggest unpleasant surprise is that knowing your stuff and being good aren't enough- they're not nearly enough.
4. What is your proudest speaker moment?
I have two. The first was opening for the band Chicago in my standup days. Just me alone on stage in a hockey arena in Saskatoon, Saskatchewan in front of 7800 rock fans and killing them. When the laughs are a physical wave washing over you, you never forget that.
The second was just this July at the NSA 09 conference when I realized that I can really hold my own with my peers in the profession as long as I know my subject and I have something the audience needs. Even after all these years I need that validation. Slightly pathetic but I think that's what drives a lot of speakers.
5. What was your worst speaking experience?
All those Rotary and Kinsmen meetings where the person who books you says, "I don't get it, we had twice this many people last meeting". Fortunately I live in Chicago and I can always blame the weather.
6. What's your favorite self marketing idea?
My favorite marketing idea and it's no coincidence that's my business, is to do webinars and other online presentations especially in conjunction with other associations or companies. Getting a chance to demonstrate your expertise, access someone else's (usually much larger) database and not having to leave home or get out of your bunny slippers is a good deal. The ability to demonstrate my unique knowledge of web presentations is what is allowing my business to really heat up at the moment.
7. What business challenges have you faced as a speaker?
I have spent the last few years in the corporate training business so I'm really struggling with finding who has the budget for conferences and other places that speakers do our thing. Like selling anything, finding who owns the budget and the pain is critical and I seem to be really obtuse on this subject. I have ignored a lot of the advice I've been given and am just now realizing that maybe those people who've been there before actually know what they're talking about.
On the other hand, if you are promoting yourself properly they will find you. My book, "6 Weeks to a Great Webinar" is doing well on Amazon and people are finding me. I'm very grateful and more than a little lucky.
8. Who was your role model or inspiration?
Because my mother was a Sunday school teacher, and I spent so many years doing standup comedy, my idols were preachers and comedians. Not for any spiritual reason or higher purpose, sadly but because of what they could do to an audience. I saw Jimmy Swaggart once in a huge arena and it was amazing. His stagecraft was impeccable. Seeing great comics in action like Bob Hope, Robin Williams and lots that you've never heard of but are really respected in the field is instructive if you break it down like game film, which I used to do regularly.
9. What's the best advice you were given about speaking?
The best advice I have been given was, like always, ignored for the longest time. "Have something to say and say it well". I can say it well, it's the having something to say that has not always been my strong suit. I used to believe I could do anything, now I know I'm a seminar and workshop guy, not a motivational speaker per se. That's very freeing.
10. What words of wisdom would you share with a new speaker?
Take every opportunity to watch speakers in action. Attend conferences, go to sessions you'd never think you'd be interested in. If you're a motivational person, go watch technical experts and vice versa. Treat this like a craft and learn from the good, the bad and everyone actually making a living at it. Maybe you'll be inspired, maybe you'll just realize that if THEY can do it you can do it, and maybe you'll get humbled. All are equally important.
Wayne Turmel is the founder and president of GreatWebMeetings.com and the host of The Cranky Middle Manager Show, one of the world's most popular management podcasts. A former standup comic, he is now committed to helping people present, facilitate and sell using today's web presentation tools to do more than just present, but communicate and connect. His work can be found on Management-Issues.com, BNET and in his latest book, 6 Weeks to a Great Webinar.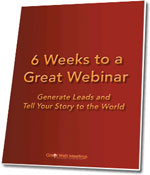 For a $10 discount,use code
CC3CKC9M at https://www.createspace.com/3357292


2009 Fall Conference
November 20 - 22, 2009
Phoenix, Arizona
Location: Arizona Grand Resort
Location Phone: (602) 438-9000

2010 Winter Conference
February 12 - 14, 2010
Nashville, Tennessee
Location: Marriott Nashville Airport
Location Phone: (615) 889-9300
2010 NSA Convention
July 17 - 20, 2010
Orlando, Florida
Location: Orlando World Center Marriott
Location Phone: (407) 239-4200
September 10, 2009
Mannheim, Germany
Global Speakers Network meeting
(Prior to the German Speakers Association (GSA) convention)
November 13-15, 2009
Crowne Plaza,
Fieldhouse Lane, Marlow, SL7 1GJ. UNITED KINGDOM.
Professional Speakers Association of the UK & Ireland.
April 30 - May 2, 2010.
Emporers Palace, Johannesburg, SOUTH AFRICA.
http://www.psasouthernafrica.co.za/default.asp
April 16-19, 2010
AUSTRALIA.
http://www.nationalspeakers.asn.au/index


Dear Judi,
As a new speaker, where can I go to be around other speakers that I can learn from and what's the best way to get the most out of it?
Ellen R.,
Tyler, TX
Dear Ellen:
One of the best places to go to be around other speakers is an NSA conference. NSA offers a number of opportunities to improve your skills, meet and associate with other speakers and network with industry professionals. Becoming an active part of your local NSA is a great way to get to know other speakers in a comfortable, relaxed atmosphere.
At the national convention you will find vendors providing everything from fashion and accessories to book publishing and marketing. And, of course, every session is an opportunity to sit next to someone you don't know, introduce yourself and ask them who they are. Most speakers are more than willing to tell you all about themselves. The really good ones will ask about you and engage in some interesting discussions of our industry.


About the Editor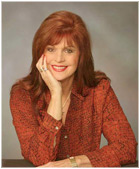 Judi Moreo's 36 years of speaking experience have established her at the top of her profession. Her programs are simple, practical, easy to remember, and can be put to use immediately. Through her highly entertaining presentations, audience members not only have a great time, they gain new information and skills...which is, after all, the point.
She is the author of "You Are More Than Enough: Every Woman's Guide to Purpose, Passion, and Power" and it's companion, "Achievement Journal" as well as six other self-help books.